UPDATES FROM KINONDONI, DAR ES SALAAM – 16/02/2018:
Polisi wakiwatawanya Wananchi maeneo Kinondoni
Tanzania is slowly turning into a brutal Police state right in front of our own very eyes, yet we are doing nothing about it. Police brutality is slowly reaching unbearable limits as witnessed by us all day in and day out, yet we are all quiet about it. The audacity of the police force to beat and even murder innocent citizens of the republic is happening in every corner of our nation, yet there isn't a single voice being raised in condemnation. Not even our own school children have been spared from these blood thirsty members of the police force in their quest to instill fear and intimidation, yet we all pretend like nothing is happening and look the other way.

It is high time the world is told the truth about Tanzania, it is high time the whole world learns of Tanzania's state sponsored terrorism against its own very people. But who's to tell the world if not us, the very people who have been a witness to all this, yet have not had the courage to do anything about it. Yes, whether we like it or not, we have been a party to these horrendous crimes against us by the very people to whom we entrusted our hopes to keep us safe. I now call upon all peace loving members of our beloved JF to join forces and expose this power hungry and corrupt regime that will stop at nothing to hang on to power at our expense.

Let us gather all evidence especially pictures and let the whole world see for themselves what we are daily going through in this land of plenty yet one of the poorest in the region. Any Tom, Dick or Harry who happens to be a Kikwete appointee can at will order the police to beat, teargas, shoot and even kill anybody, anywhere, anytime and anyhow the usual excuse being "kulinda amani " Pictures, comrades, speak louder than words so bring them and if you cannot upload them please PM them to me ! I start with this one
Kiongoz wa CDM alipokamatwa na Police​
Police alipompiga Risasi msomaji Magazeti Morogoro​
​

Update from Iringa 2/9/2012
​
Who is policing the Tanzania Police Force?

ON January 5, this year, police shot dead at least two unarmed civilians and left a dozen others nursing gunshot wounds following street demonstrations organised by Tanzania's main opposition party, CHADEMA.

Apart from shooting to kill, riot police kicked, punched and repeatedly clubbed scores of demonstrators, including women, some of whom sustained head injuries and other horrid wounds.

Disturbing television footage and photographs from the Arusha demonstrations highlighted a police brutality of epic proportions.

There has been widespread public outrage following the incident, with calls for official resignations and a judicial inquiry.

A high-ranking police official has swiftly dismissed suggestions that police had overstepped their authority and sought to defend law enforcers for killing unarmed citizens.

Police followed their statement of defence with paid advertisements in local newspapers absolving themselves of any wrongdoing and pointing a finger of blame squarely at opposition figures for allegedly organising and leading a banned demonstration.

Disciplined police officers respect and follow established rules of engagement for crowd control whenever they are forced to contain riots or unlawful gatherings.

These include issuing verbal warnings for people to disperse and proceeding to contain the situation if the demonstrators do not heed the warnings.

The use of tear gas, water cannons and low velocity, rubber-coated bullets are some of the accepted methods employed by professional riot police across the world to control hostile crowds.

Police officers are required to use a reasonable amount of force in conflict situations and should never be allowed to brutally assault or kill unarmed civilians.

Live ammunition or live rounds may only be used as a last resort of self defence when police are being attacked by armed rioters, not against unarmed persons who present no credible threat to the police or other citizens.

The Arusha incident is not the first time that Tanzanian police have been accused of being trigger-happy. There is a long list of incidents over the years where civilians were killed by the police in the name of law enforcement.

While appreciating the difficult and important role of the police in maintaining law and order, we condemn heavy-handed tactics that raise cries of police brutality.

Police abuse has become so common in Tanzania to the extent that a well-known Kiswahili saying — "Unauliza makofi polisi?" — has been coined thanks to the notoriety of the police for slapping and physically assaulting suspects during arrest and/or detention.

The government must wake up to the blatant abuse of human rights and rule of law being perpetrated by the police and other members of the country's law enforcement agencies.

Tanzania has historically been hailed as a stable nation in an often unsettled region, hence shouldering the burden of sheltering refugees from its war-torn neighbours.

However, the country's fragile peace is being threatened by the same people entrusted with the task of protecting it.

Protesters who take part in a banned demonstration are presumed innocent until proven guilty in the courts of law, which have inherent powers to punish convicted offenders.

On the other hand, police must also avoid unleashing blunt state power on unarmed citizens and arbitrarily crushing their civil rights.

The government must decisively deal with a growing crisis of confidence in the Tanzania Police Force, whose members are seen in the eyes of many people as an armed group notorious for taking the law into their own hands and assaulting innocent people.

One way of doing that is by appointing an independent judicial inquiry into the Arusha killings to determine what really happened.

Opposition leaders and their supporters are supposed to abide by the law in exercising their civil liberties.

However, excessive violence and abuse of citizens by police officers is inexcusable.

Police brutality remains one of the most serious human rights violations in Tanzania, but has been largely ignored by the government.

Members of the Tanzania Police Force, from senior officers to the lower cadres, need to be retrained on effective crowd control, civil liberties, human rights and the rule of law.

The Home Affairs Ministry should also set up an Internal Affairs Unit responsible for investigating allegations of police brutality, complaints of police misconduct and violations of rules and regulations.

The killing of unarmed civilians in Arusha recently and other similar incidents previously suggest that some members of the police could be wantonly acting as the judge, jury and executioner.

We must stand up against tyranny in this country, whether perpetrated by civilians or men (and women) in uniform.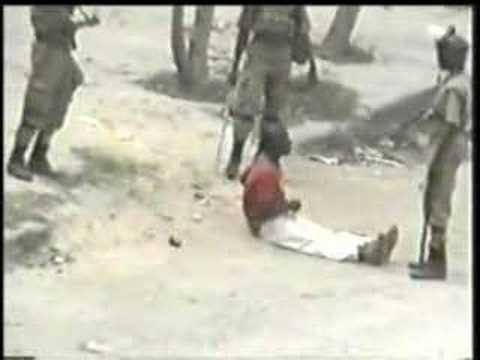 Above Photos show Police in action with Citizen in Zanzibar
https://www.jamiiforums.com/threads/police-brutality-in-tanzania-the-world-has-a-right-to-know.193311/